Xiphophorus hellerii Heckel, 1848

Molliennesia hellerii Heckel, 1848; ( sinónimo / synonym )
Poecilia helleri Heckel, 1848; ( sinónimo / synonym )
Xiphophorus helleri vários authores; ( erro de escrita / misspelling )
Xiphophorus helleri Heckel, 1848; ( erro de escrita / misspelling )
Xiphophorus heckelii Weyenbergh, 1874; ( sinónimo / synonym )
Xiphophorus guntheri Jordan & Evermann, 1896; ( válido como / valid as )
Xiphophorus jalapae Meek, 1902; ( sinónimo / synonym )
Xiphophorus brevis Regan, 1907; ( sinónimo / synonym )
Xiphophorus strigatus Regan, 1907; ( sinónimo / synonym )
Xiphophorus rachovii Regan, 1911; ( sinónimo / synonym )
Xiphophorus hellerii brevis Hubbs & Gordon, 1943; ( sinónimo / synonym )
Xiphophorus helleri guntheri Rosen & Bailey, 1963; ( erro de escrita / misspelling )
Xiphophorus helleri strigatus Rosen & Bailey, 1963; ( erro de escrita / misspelling )
Xiphophorus hellerii strigatus Rosen & Bailey, 1963; ( sinónimo / synonym )
Xiphophorus hellerii guntheri Rosen & Bailey, 1963; ( sinónimo / synonym )


Cauda-de-Espada [ Português ]
Espada [ Português / Español ]
Cola de Espada [ Español ]
Xifo [ Español ]
Swordtail [ English ]
Green Swordtail [ English ]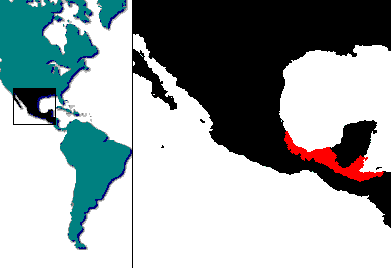 Distribuição geográfica :
México, Belize, Guatemala, Honduras.
Geographical distribution :
Mexico, Belize, Guatemala, Honduras.

Introduções :
África do Sul, Austrália, Bahamas, Canadá, Ceilão, Colômbia, Brasil, Eslováquia, Estados Unidos da América, Fiji, Havai, Hong Kong, Hungria, Ilhas Guam, Índia, Indonésia, Israel, Jamaica, Japão, Madagáscar, Namíbia, Nova Caledónia, Nova Zelândia, Papua Nova Guiné, Porto Rico, República Checa, Reunião, Singapura e Zâmbia.
Introductions :
Australia, Bahamas, Brazil, Canada, Colombia, Czech Republic, Fiji, Guam, Hawaii, Hong Kong, Hungary, India, Indonesia, Israel, Jamaica, Japan, Madagascar, Namibia, New Caledonia, New Zealand, Papua New Guinea, Puerto Rico, Reunion island, Singapore, Slovakia, South Africa, Sri Lanka, United States of America and Zambia.